Give us an hour and we'll get you submitting
Velocity, the DLC, MCC and MA selected submission platform is starting the New Year with a new training system to help you transition from Expert to Velocity for all of your lender application submissions.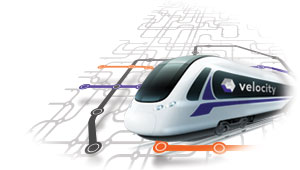 Our updated training page runs on an interactive, high speed train where you can ride one of three lines stopping at any location of interest. Each stop is a training topic supported with videos, written instructions, FAQ's and other helpful content. The Velocity Train is a great mode of transportation to help both self-starters and lost travelers reach their goal destination at their own preferred pace.
Quick, Interactive, Effective
We've condensed all Velocity training down to the amount of time it takes to have a coffee break.
You can
register
for a variety of quick Live Online Training Sessions each week that will take you through everything you need to know.
This New Year, make it your resolution to upgrade from Expert to Velocity.
Deliver yourself, your clients and lender partners a better experience.
Check out our Testimonial Wall and find out what other Mortgage Brokers are saying about Velocity and how it's improved their business!