Plus, Disclosure Documents, Insurance Updates + More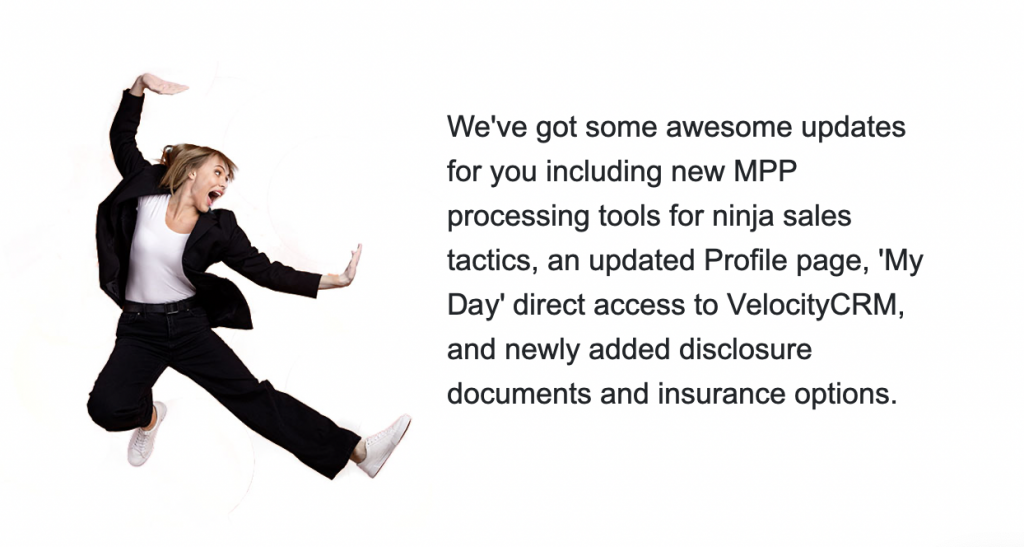 ---
MPP – What's New?
Go paperless!
Clients can complete the MPP application process completely online with designated MPP Hub links now appearing directly in your Velocity application

Not sure your clients prefer online vs. the form? Send both!
Send a link to the online application together with the PDF and upload portal straight from your Conditions and Documents section
Get status updates along the way

MPP Campaign Reminders – Set your process on autopilot!
Turn-key VelocityCRM Campaign to remind your clients to complete their applications
Direct link to their application from the campaign
Training videos are on their way! Be sure to register for our MPP Ninja Sales Demo to master these new tools.
Wednesday, June 23rd at 3 pm ET / 12 pm PT
Please note: You will need to be registered with MPP Hub in order to send online application links.
Contact: mppsupport@manulife.ca
1.866.677.4677
---
ACTION NEEDED: Profile Page Address Change
Please drop into your Profile page to briefly update your address format to comply with the new CRM (ME > Profile)The "Deprecated Fields" in the top red box will be removed in 30 days

---
Homeowner's Insurance Mortgage Condition – Satisfied
Opta and Insureline
Every office now has the choice to amend their client-facing consent in the Velocity Client Journey (online application) to include an 'opt-in' for mortgage applicants to receive a no cost, no obligation, homeowner's insurance quotation.Opt-in must be completed by an office admin role and is office-wide.
---
Disclosure Documents
ADDED: Know Your Client Document and a New Brunswick Conflict of Interest form
UPDATED: Quebec Service Contract – AMF License # field added