In order to start sending out CRM Campaigns to clients, first you're going to need a template. The template is the content within the campaign that's going to be sent your clients.
You can choose to use one of the gorgeously designed, turn-key templates and insert your logo to make it your own, or you can get creative and build one from scratch. You decide!

Add your "Apply Now" button to your Templates: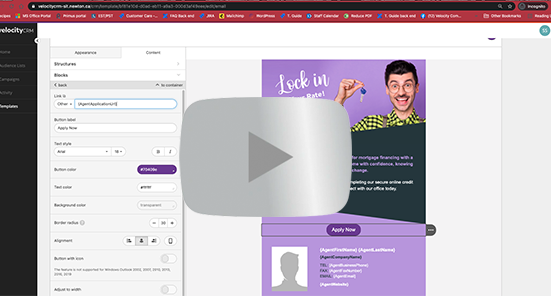 Time Saving Tip:
Want your contact info and social media links to auto-fill with the merge tags? Make sure to input them on your profile page in Velocity.
Worth Noting:
In order to see your Template's merge tags populate with your name, email, phone #, etc., you will need to send the Template attached to a Campaign. We suggest setting up a test Audience List with just you in it and triggering the Template you'd like to test in a Campaign. Sending a "Preview" will not populate the merged fields.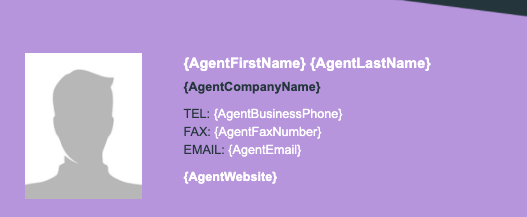 Your profile picture will not pull from your Velocity profile page and will need to be added to the template (see instructions below).
Add Your Profile Pic
For any photo placeholders in the templates, you will need to add your photo before publishing the campaigns:
In Templates, when you upload one photo, it can be uploaded into the "Personal Gallery", which makes it easy to use again in other templates.