You can now import your Nexa Data using the Importer Tool.
Maintenant vous pouvez importer votre base de données de Nexa avec l'outil de importer
Step-By-Step / Étape par Étape
On the left-side menu bar, click Tools > Importer
Cliquez sur Tools > Importer dans le menu a la gauche

Either click to upload or drag and drop your Mortgage Details and Participants files that you would have received from your Nexa export (the order of upload is not important).
In order for the mapping to function, Please refrain from manipulating the Nexa exported spreadsheets in any way before importing, including editing text, deleting anything or even changing the name of the spreadsheet when you download and save to file.
Cliquez sur Upload ou glisser-déposer les fichiers de Demande de L'hypothèque et Intervenants que vous avez exporté de Nexa.

Your data will be displayed below. On the left you will see the Nexa name for the fields that are being imported, to the right of that will show the name of the Velocity fields that they will be feeding into.
The number of Rows displayed at the top indicates the number of deals that will import. The fields that cannot be imported will greyed out and displayed as "N/A". This data will be brought into the Notes section of the deal once it is imported.
Les données seront affiché ci-dessous. Sur la gauche vous verrez les noms des champs de Nexa qui sont importé. A côté vous verrez les champs dans Velocity dans lesquels ils seront placé. Le nombre de lignes affichées en haut indique le nombre de demandes qui seront importées. Les champs que peuvent pas être importes seront grises et affiches par N/A. Ces données seront mise dans la section de Notes dans la demande une fois qu'il est importé.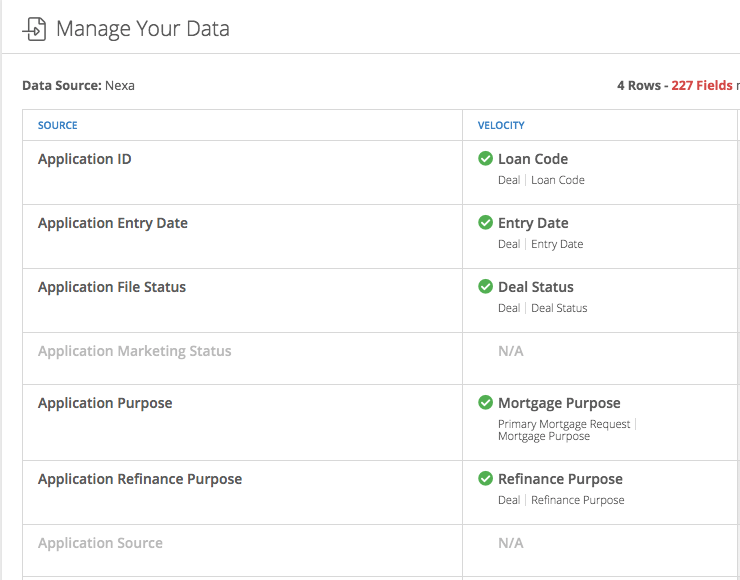 The Values that display on the right show a preview of the deals that are importing
Please Note: Velocity will only display 4 deals, this is not reflective of the number of deals that are importing.
Les valeurs affichées a la droite montrent un aperçu des demande qui importent.
Remarque : Velocity n'affichera que 4 demandes. Cela ne reflète pas le nombre de demandes qui sont importés.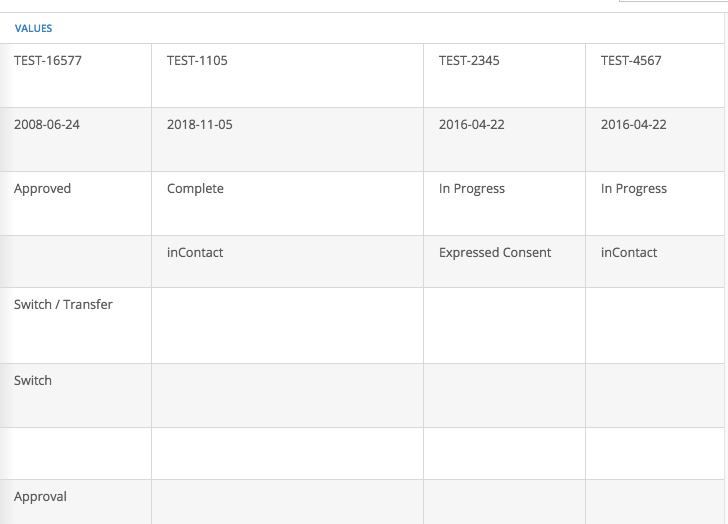 Click to Save to Velocity
Cliquez sur "Save to Velocity"

Your imported data will be displayed on your Historical Deals page.
Please note: Nexa deals that were opted in for CRM will already be checked off for CASL on your Historical Deals page. In order to move your deals onto your Dashboard, and update the CASL opt in, you will need to follow the Historical Deals training. Click here to visit the self-guided training, or here to sign up for a live online session with a trainer.
Vos données importées seront affichées sur l'écran Historical Deals. Veuillez noter demandes de Nexa qui ont été opté pour CRM seront déjà coches pour CASL sur l'écran Historical Deals. Pour transférer vos demandes dans votre Dashboard et mettre à jour l'adhésion a CASL vous devrez suivre la formation sur Historical Deals. Cliquez ici pour visiter la formation autoguidée ou ici pour vous inscrire a une session en ligne en direct avec un formateur