Everyone that has a Velocity account, has what is called an "Essentials" account. From your Essentials account, you can add on additional pay for use services or upgrade to an Enhanced account. See chart below for full list of add ons.
Learn how to purchase individual add-on services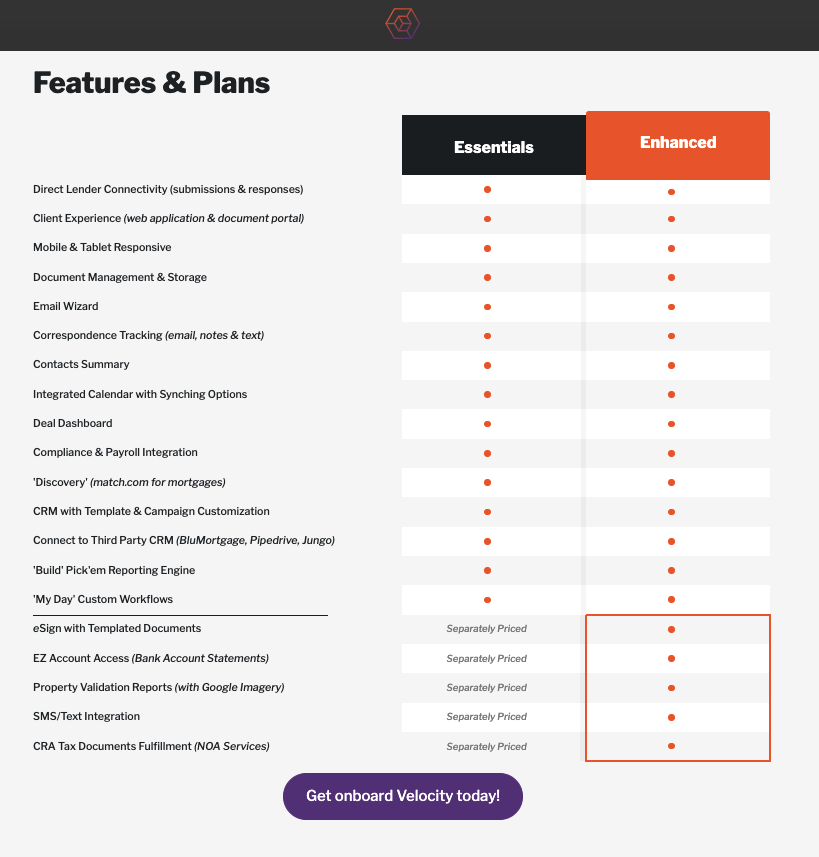 The Velocity add-on services can be purchased one of two ways:
In individual service bundles a-la-carte style from your Settings page
By upgradinig to Enhanced
Enhanced Package
Save $1000's each year by bundling these important Add-on services!
Our New Enhanced Bundle is for those Essential customers that desire a high volume, single payment plan for larger quantities of Add-On Services. You can register today for the Enhanced Bundle for only $89/month plus applicable taxes.
The Enhanced Package Includes:
150 eSign package sends
150 EZ Account Access pulls (1 credit per borrower per institution)
75 Opta Validation Reports
10 000 direct SMS messages
75 NOA Services
To register for the Enhanced Package, go to the "Add/Renew Subscription" drop-down menu on your member login screen > and select "Velocity Enhanced Signup"
The Enhanced package is a 12 month contract. Transactions purchased are valid for 1 year from the date of purchase and will expire.
Please review our full Terms of Service which include the definitions and quantities for high volume add-on services.